1. Class member management
1. Click [Members] from the left menu in the Class screen.
2. Click the small cogwheel-shaped button on the right of the profile photo of the member's profile.
3. Change role, assign as co-admin or expel from class as necessary.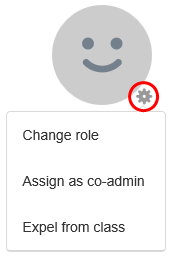 * Change role: move a member to appropriate group (teacher/student/parent) when misplaced.
* Assign as co-admin: Co-admins have same authority as the admin, except for closing down the class.
* Expel from class: unsubscribe a class member from class and remove access.
2. Class settings
1. Class - click [Settings] on the left menu.
2. Change class info including profile image, school, year, grade, name, profile and URL
3. Click [Save changes] to save changes.
3. Managing class storage
1. Class Home - click [Settings] on the left menu.
2. Click [Manage storage].
3. Files uploaded to class are organized by month.