Sign Up
Access www.classting.com and click [Get started in a minute].
Select 'Student' for your role.
If you wish to join using an email address, click on Email tab. If you wish to join using a mobile number, click on the Mobile tab. (To join without an email or phone number, click on 'Don't have an email or mobile?' below the Email/Mobile tabs to create an ID.)
After entering your email address or phone number, enter your password, name.
Agree to Classting's Terms of Use and Collection and Use of Personal Information (check mark the circle).
Click [Join] button to complete the process.
Sample view on Classting mobile app: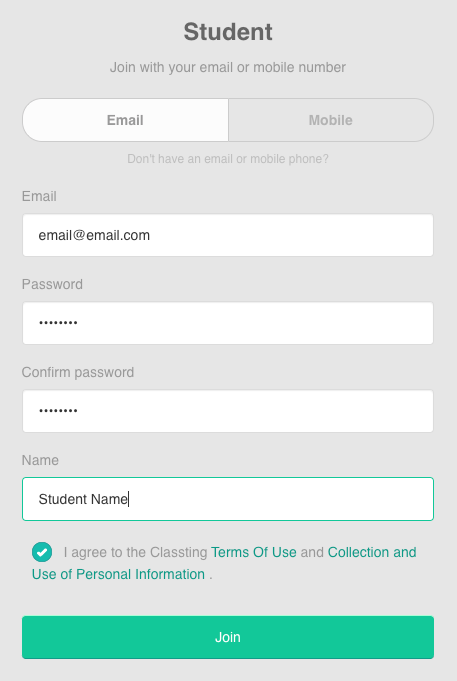 Find My School & Class
Search for your school using the search bar located on the upper right side.
Select your school, then find your class and enter.
Click the [Join Class] button to join class.
A window will pop up notifying that your request has been sent, and you will be notified once the admin (teacher) of the class accepts your request.
*It may take some time as the teacher needs to approve your request. If this process takes a long time, your teacher may not be aware that you are waiting. Ask your teacher to accept your request to join the class.
*If your class or school is not registered in Classting, you may not be able to find your class. In this case, please ask your teacher to create a new class.
Join Using a Class Code
A class code is an invitation code to a class, composed of 6-alphabet letters. This unique code allows the users to join the class instantly, without waiting for the approval.
If you have a class code: Click [Classes] on the top menu bar and click [Join with Class code] on the right side menu and enter class code. You will become an exclusive member of your class.
If you don't have a class code: Ask your teacher for the class code for your class. The most convenient way to join your class is through the class code.